‹
›
›
Mizuno Netball Trainers
Mizuno Netball Trainers
Mizuno Netball Trainers
Mizuno have invested significantly in netball in recent years and netball trainers has been at the forefront of this investment. Worn and endorsed by many of the top netball players including Eleanor Cardwell (England Roses and Adelaide Thunderbirds) and Joyce Mvula (Malawi Queens and Central Pulse), Mizuno netball shoes offer an excellentrange catering for all levels.
The two top of the range models are the Wave Stealth Neo, suited for dynamic players who prefer a lightweight netball trainer and the Wave Momentum, a bootie style preferred by circle players who love stability.
The exclusive
Mizuno Wave Technology
is key to ensuring maximum stability on a netball court while the
Mizuno Enerzy & U4icX midsole compound
provides unrivalled softness and dynamic cushioning feeling.For injury prevention a key component in any netball shoe is a flat and rounded sole, engineered for the lateral movements in netball gives you a smooth roll-off from heel to toe.Mizuno are the leading manufacturer of junior netball shoes, offering some fantastic colours in the Stealth Star Junior Netball Shoe. In 2019, Mizuno in conjunction with Netball UK led the
Make the Swap
campaign where they found that over one million netballers are wearing the wrong shoes for their sport! Sounds crazy doesn't it but it's not.
Despite being the UK's number one female participation sport, with over 1.5 million women and girls playing netball in a typical season, an extraordinary 70% of netballers aren't wearing the correct shoes for the sport. The vast majority play in running shoes or generic 'trainers' which don't provide the necessary grip and support for the quick, dynamic movements needed in the game.

In addition to improving performance on court, the grip and support provided by specialist netball shoes can also help reduce the risk of ankle and knee injuries. Their durability also reduces the need to replace shoes on a such a regular basis.

During a regular 60-minute game of netball, players perform a vast range of dynamic movements, with up to 900 changes of direction. Players spend less than 40% of their time on court moving forward, with most activity including jumps, accelerations and decelerations involving lateral movements.

Research shows that in a typical 60 minute netball match a centre can cover up to 6-8km; the Goal Defence jumps 75 times, Goal Shooter 65 & Wing Defence 64; the Goal Keeper completes 151 Accelerations and 117 decelerations, Wing Defence 192 Accelerations and 248 Decelerations. In fact, all positions, except the Goal Keeper complete more decelerations than accelerations.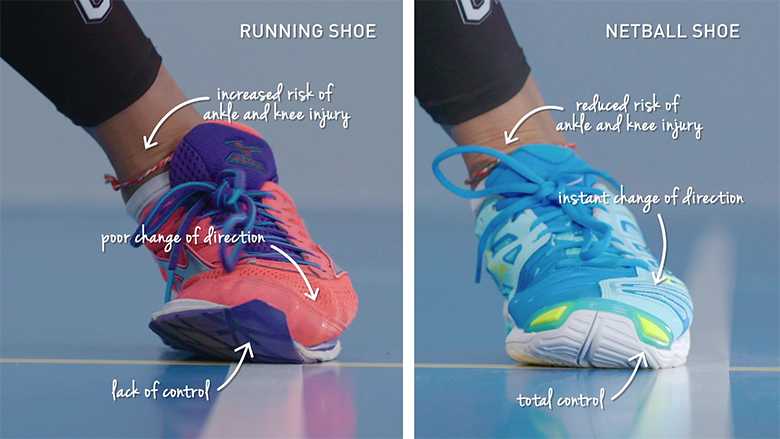 Chartered Physiotherapist, Andy Curtis, comments: "Running shoes are simply not designed for the 'stop start' motions in netball, where players are focused on change of direction and need stability as they come down from the air. Choosing a netball shoe rather than a running shoe, means players are more likely to have a stable knee and ankle position when they land - reducing the likelihood of injuries in those two areas."
In a bid to ensure more women and girls get the most from their sport, global sports brand, Mizuno have launch a #MakeTheSwap campaign to highlight the issues around choosing the correct shoes for netball.

Debbie Hallas, Managing Director at Manchester Thunder and Netball UK commented: "Mizuno have developed a superb range of netball shoes that offer all our players the grip & support needed to play safely and gain an all-important advantage over their opponents.

"Most parents understand the need for the correct footwear for sports like football and rugby, and it should be exactly the same for netball. We want women and girls to be able to fully enjoy the sport with a greater level of control and a reduced risk of damaging knees and ankles."