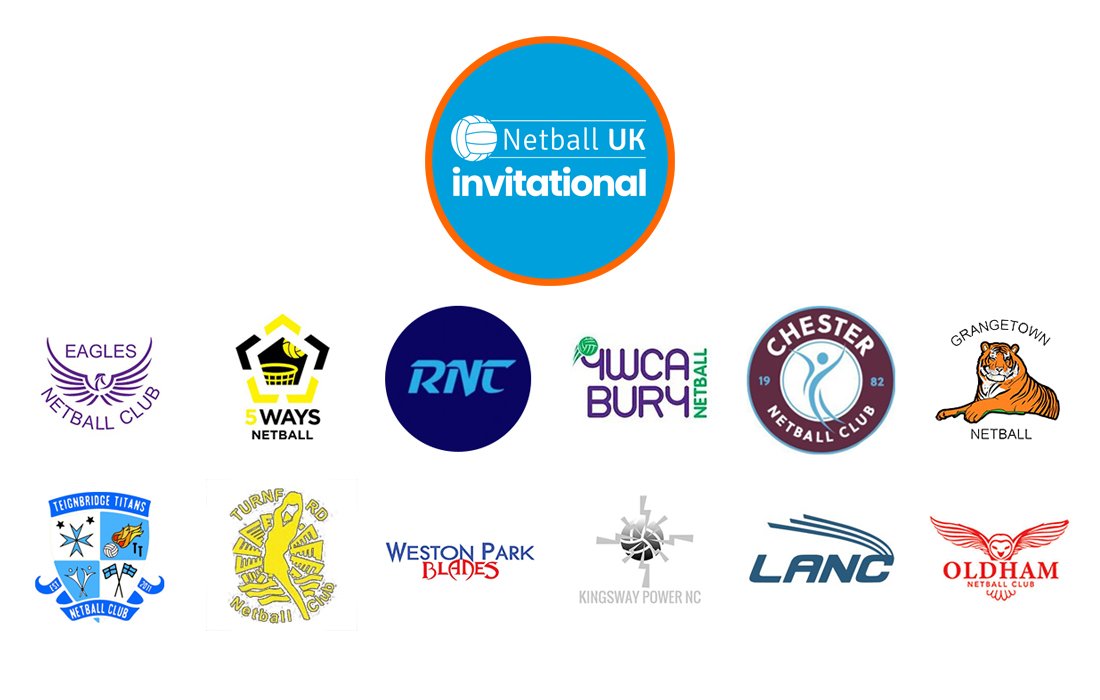 Introducing a brand new tournament for elite U15s across the country, organised for clubs & their players by clubs & their players.
Supported by the country's biggest online netball retailer, the Netball UK Invitational is made up of 12 teams in 2 groups (north and south) with one amazing opportunity to compete against some of the best young netballers from some of the best netball clubs in England.
For more information about the event, please contact
info@nukinvitational.co.uk
.
2023 Fixtures
Saturday 21 October
POM
POM
NORTH
12.45
Evie Mackay
YWCA Bury
18
-
48
Grangetown
Effie Stewart
NORTH
12.45
Heidi Roscoe
Leeds Athletic
35
-
34
Oldham
Isla Wolstenholme
NORTH
13.45
(Walkover)
Kingsway Power
W
-
Chester
NORTH
14.45
Daisy Gillespie
YWCA Bury
28
-
52
Oldham
Georgia Clarkson
NORTH
14.45
Millie Clerk
Grangetown
32
-
28
Leeds Athletic
Bella De Jager
SOUTH
12.40
Timi Adewale
Eagles
44
-
27
Ryland
Sophia Merlin
SOUTH
13.40
Hannah Clifton
Turnford
29
-
19
Weston Park Blades
Beth
SOUTH
14.40
Jemima Talbot
5 Ways
23
-
45
Teignbridge Titans
Evie Barnett
SOUTH
15.40
Halle Brown
Eagles
33
-
15
Weston Park Blades
Rosa
SOUTH
16.40
Sophia Kilburn
5 Ways
44
-
26
Turnford
Saturday 4 November
NORTH
11.15
Grangetown
v
Kingsway Power
NORTH
11.15
Chester
v
Oldham
NORTH
12.15
YWCA Bury
v
Leeds Athletic
NORTH
13.15
Grangetown
v
Chester
NORTH
13.15
Kingsway Power
v
Oldham
SOUTH
12.40
Eagles
v
5 Ways
SOUTH
13.40
Ryland
v
Turnford
SOUTH
14.40
Teignbridge Titans
v
Weston Park Blades
SOUTH
15.40
Ryland
v
5 Ways
SOUTH
16.40
Eagles
v
Teignbridge Titans
Saturday 2 December
NORTH
12.45
YWCA Bury
v
Kingsway Power
NORTH
12.45
Leeds Athletic
v
Chester
NORTH
13.45
Grangetown
v
Oldham
NORTH
14.45
Grangetown
v
Chester
NORTH
14.45
Kingsway Power
v
Oldham
SOUTH
12.40
Eagles
v
Turnford
SOUTH
13.40
Ryland
v
Teignbridge Titans
SOUTH
14.40
5 Ways
v
Weston Park Blades
SOUTH
15.40
Turnford
v
Teignbridge Titans
SOUTH
16.40
Ryland
v
Weston Park Blades